Main content starts here, tab to start navigating
Menus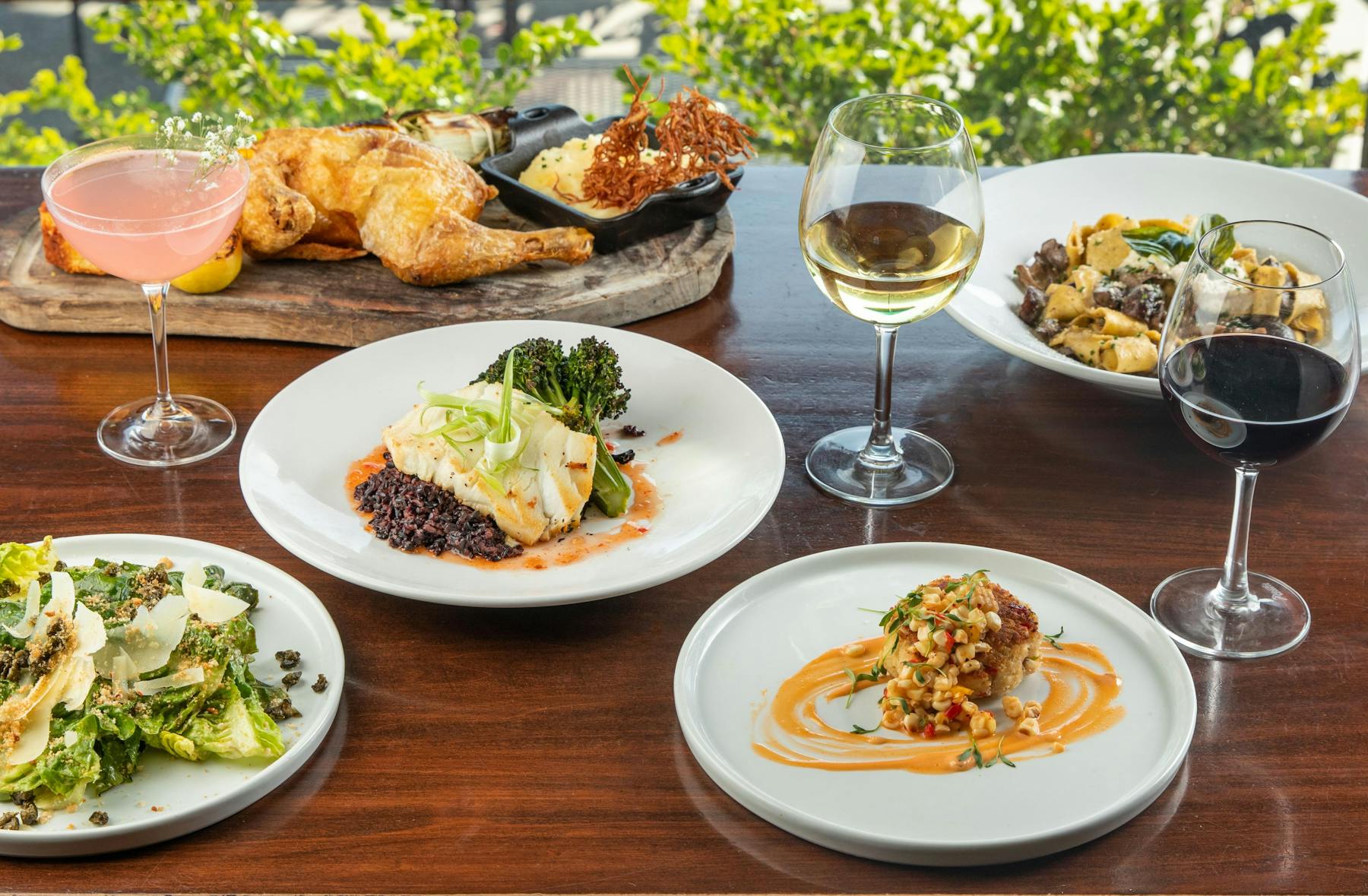 Slide 1 of 4
Slide 2 of 4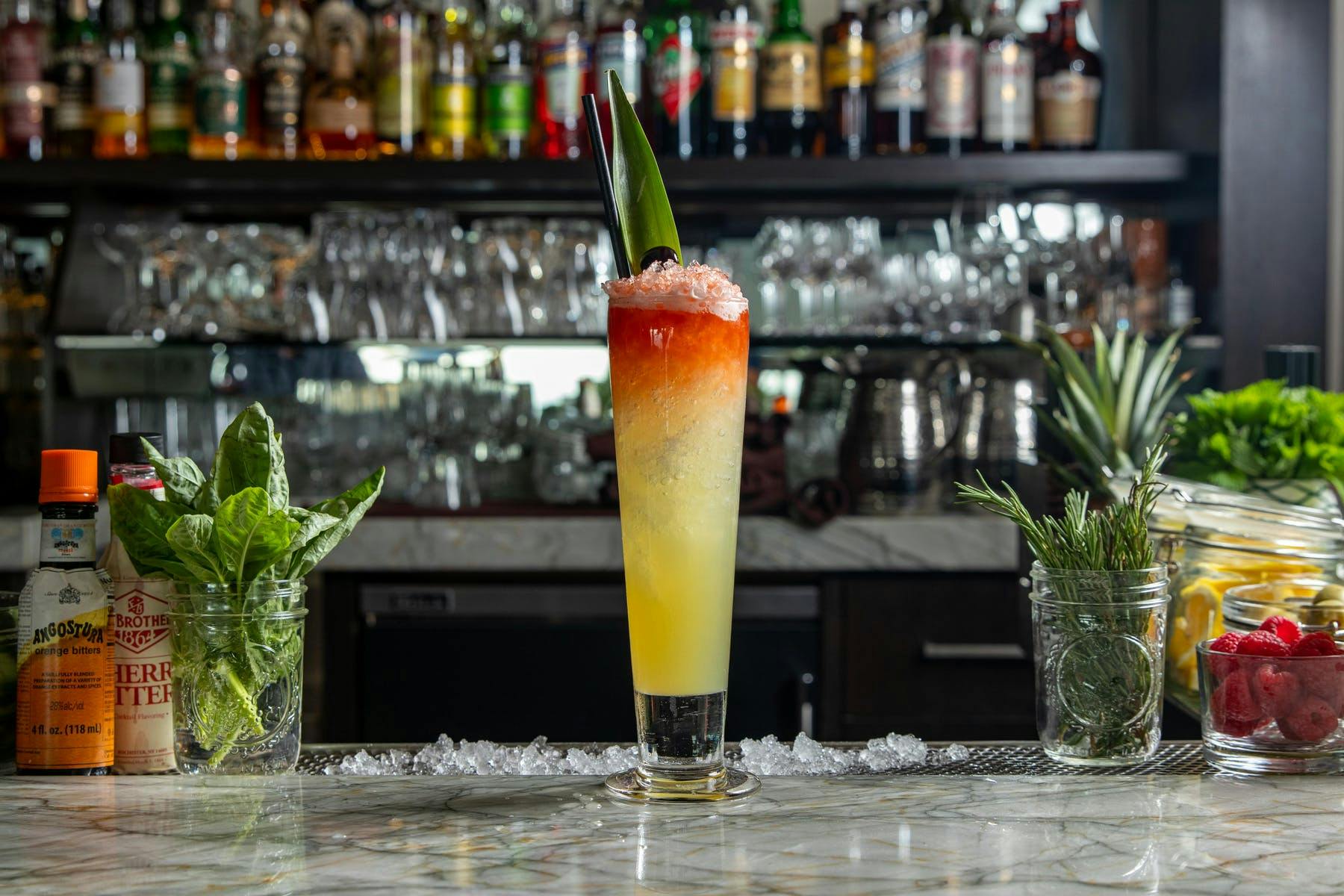 Slide 3 of 4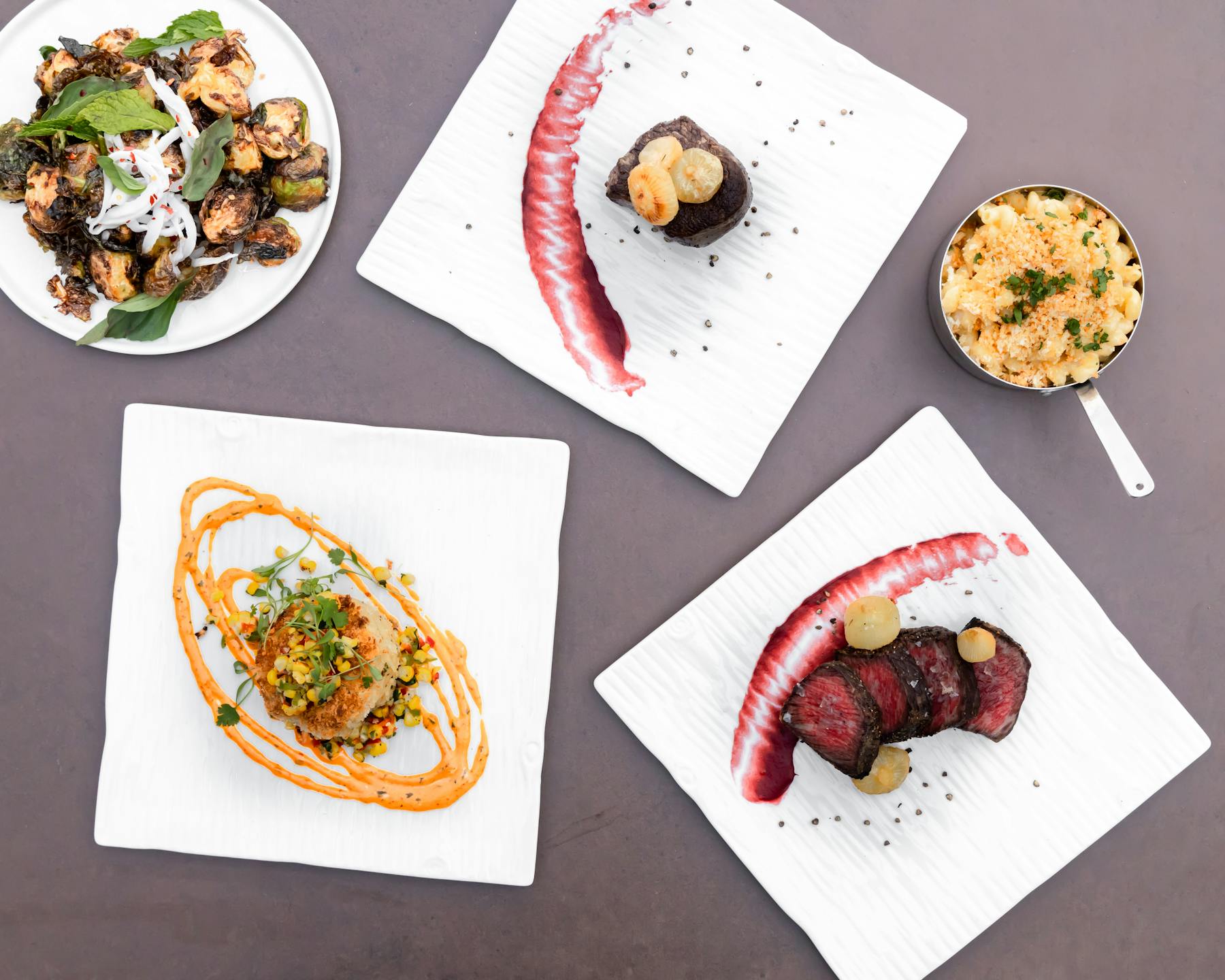 Slide 4 of 4
Classic Taste
A contemporary California steakhouse, Orange Hill features upscale dining and drink options that tout high-quality seasonal and local ingredients, aged steaks and fresh seafood. Enjoy favorites like Cape Grim Filet, Miso-Marinated Chilean Sea Bass, Coconut Shrimp and new menu items including the Steak Progressive featuring 4 different cuts of premium beef, Faroe Island Salmon and more!
Dinner starts at 4:30 p.m. A la Carte Brunch is available Sunday 10am-2pm.
Socialize in the bar, lounge and patio for Happy Hour, Monday to Friday: 4pm to 7pm.
Order Take-Out, Curbside Pick Up or Delivery.
A 2 hour maximum has been implemented to accommodate reservations during brunch. Buffet Brunch will no longer be offered.
With local ingredients and endless inspiration from our unique landscape, we craft fresh, new American cuisine under the direction of our talented award-winning culinary team. All of our steaks are aged perfectly up to 28 days and we use the highest quality ingredients. That's the taste of Orange Hill.
Orange Hill Restaurant is the proud recipient of the 2011 Wine Spectator Award of Excellence. Be sure to consult with one of our knowledgeable servers to find the perfect pairing from our extensive wine list, including over 200 different wines from various regions worldwide.
*Menus and prices are subject to change.
Download PDF
Starters
Calamari

Citrus 'buffalo' sauce, tempura peppers and onions

$18

Crab cake

Brussels Sprout Slaw, Sherry Bacon Vinaigrette, Sweet Potato, Roasted Garlic Mustard Aioli

$19

House Ground Sliders

Truffle-Bacon-Onion Marmalade, Red Dragon Cheddar, Spicy Ketchup

$18

Heirloom roasted cauliflower

Hazelnut vinaigrette, cinnamon, currants, fresno chili

$14

Roasted brussels sprouts

Thai chili glaze, young coconut, basil, mint

$15

Spinach dip

Mozzarella, parmesan, roasted artichoke, warm pita

$16

Coconut shrimp

Coconut crusted, orange-ginger marmalade

$19
Chilled oysters

Half dozen, east and west coast, ancho chili cocktail sauce, signature red wine mignonette

$24

Shrimp cocktail

Citrus poached shrimp, ancho chile cocktail sauce, lemon

$19

Red colossal king crab 6 oz

Whole grain white wine mustard aioli

$28
We have a team of chefs who have curated a program of artisanal meats and cheese served with chef accoutrements. Available as petite (23) or grand (36) charcuterie board
PETITE

Bresaola

Cured and air-dried beef tenderloin from Italy

LARGE

Everything in the Petite selection plus:

Salametto Piccante

Aged 30-day and seasoned with pimenton de la vera

Prosciutto de Parma

18-month aged ham from Italy

St. Andre

Cow's milk triple cream from France

Midnight moon

Hard and nutty goat's milk cheese from Holland

Red dragon

Cow's milk cheddar with mustard seed and welsh brown ale from England

Ewephoria

Sheep's milk gouda from the Netherlands
Liquid & Leaf
Mini Winter Squash Chicken Pot Pie

Roasted Chicken, Carrots, English Peas

$14

Add to salads

Beeler's bacon $3

Citrus-Brined Grilled Chicken Breast $10

Roasted Faroe Island Salmon $13

Grilled Jumbo shrimp $12

Little gem Caesar salad

Shaved parmesan, garlic roasted croutons, crisp capers

$13

Mixed greens

Seasonal Blend of Organic Greens, Avocado, Tomatoes, Toasted Quinoa, Smoked Tomato Vinaigrette

$12

The wedge

Iceberg babies, ranch, blue cheese, radish, cherry tomato, applewood bacon

$15
Butcher Cuts
Cape Grim Beef

Pasture-raised, 100% grass-fed, no added hormones, GMO & antibiotic-free, certified humane, from Tasmania where the air is cleanest in the world

Filet 6 oz $36

New York Strip 12 oz $42

Revier Cattle Company

High quality, sustainable, all-natural Angus beef, Minnesota

Filet 8 oz $43

Ribeye 16 oz $46

30-Day Dry-Aged New York Strip 10 oz $42

USDA Prime Skirt Steak 10 oz $34
Creekstone Farms

Premium hand-selected, black Angus and raised in Kansas

Tomahawk 40 oz (Share for Two) $140

The Progressive

Himalayan pink salt, braised cipollini onions, red wine shallot, crushed pink peppercorn

$118

Filet 6 oz Cape Grim

Ribeye, Revier Cattle Company 7oz

30-Day Dry-Aged New York Strip 5oz

USDA Prime Skirt Steak 5 oz
Truffle butter

$4

Grilled Jumbo Shrimp

$12

Whole Broiled North Atlantic Lobster

$36
Specialties
Wild mushroom pappardelle pasta

Roasted wild mushrooms, truffle whipped ricotta, basil

$30

Zinfandel braised short rib

Truffle whipped potato, ranch scented onion rings

$37

Roasted Chicken

Honey Roasted Root Vegetables, Smoked Sweet Potato Puree, Mini Winter Squash Pot Pie

$34

Faroe island salmon

50/50 mashed, garlic caper butter sauce, seasonal vegetables

$35

Miso-marinated Chilean sea bass

Black Thai rice, grilled broccolini, sweet chili sauce

$48

Orange Hill Burger

Double Patty Smash Burger, Lettuce, Tomato, Cheddar Cheese, Secret Sauce, Caramelized Onions, Brioche Bun, Shoestring Fries

$22

24-Hour herb roasted prime rib 12 oz

50/50 mashed, seasonal vegetables, au jus, horseradish (limited availability)

$39

Honey Roasted Root Vegetables

Broccolini, smoked sweet potato puree, brown butter almonds, preserved lemon

$28

Broiled lobster

1½ pound Maine lobster, 50/50 mashed, grilled citrus broccolini

$65
Sides
50/50 Mashed

Yukon gold potatoes, butter, cream, chives, horseradish, potato "hay"

$10

Baked potato

Cheese sauce, braised bacon, sour cream chives

$10

Shoestring fries

Parmesan, rosemary, parsley

$8

Four cheese mac and cheese

Fontina, cheddar, parmesan, gruyère, parmesan bread crumbs

$10

Grilled broccoli and broccolini

Garlic confit, chili flakes, broccoli puree

$10

Wild mushroom fricassee

Sweet garlic, truffle cream

$10

Honey Roasted Vegetables

Smoked Sweet Potato Puree, Brown Butter Almonds, Preserved Lemon

$14
Orange Hill's sophisticated O BAR has a fresh new look and menu. The O BAR offers imbibers signature breathtaking hilltop views in a modern space with state-of-the-art mixology stations, a draft system complete with nitro tap, and 4 large flat-screen TVs. The expansive bar program will feature a vast selection of single malts, craft cocktails incorporating fresh, local, and organic ingredients, and a thoughtfully composed wine list curated by Master Sommelier Michael Jordan.
Happy Hour See the view and be seen at Orange County's most exciting Happy Hour featuring cocktail, beer, and wine specials and craveable small bites and shareables from our talented culinary team Monday – Friday from 4:30 pm to 6 pm. Available in the bar, lounge, and patio.
PRIVATE PARTIES
The O BAR is also available for private parties. For more information about having your next special event at Orange Hill Restaurant, visit our Special Events page or contact (714) 997-1109 or orangehillcatering@srcmail.com.
Download PDF
Starters
Calamari

Citrus "buffalo" sauce, tempura peppers, and onions

$18

Crab cake

Brussels Sprout Slaw, Sherry Bacon Vinaigrette, Sweet Potato, Roasted Garlic Mustard Aioli

$19

Roasted bone marrow

Short rib marmalade, shallot currant jam, rustic bread

$19

Heirloom roasted cauliflower

Hazelnut vinaigrette, cinnamon, currants, Fresno chili

$14

Roasted brussels sprouts

Thai chili glaze, young coconut, basil, mint

$15

Spinach dip

Mozzarella, parmesan, roasted artichoke, warm pita

$15

Coconut shrimp

Coconut crusted, orange-ginger marmalade

$18
Raw Bar
Chilled oysters

Half dozen, east and west coast, ancho chili cocktail sauce, signature red wine mignonette

$24

Shrimp cocktail

Citrus poached, ancho chili cocktail sauce, lemon

$18

Red colossal king crab

Whole grain white wine mustard aioli

$28
Hot & New
Spruce Willis

Peach Infused Maker's Mark Bourbon, Agave, Lemon, White Peach Puree, Mint and Rosemary

$14

One in A Melon

Casamigos Blanco Tequila, Lime, Watermelon and a pinch of Pink Himalayan Salt with Mint and Dehydrated Lime

$15

Hotel National

Milagro Reposado, apricot, falernum, almond, lime, whipped pineapple

Frothy | Tropical | Pit Fruit $18

The Wilson

Monkey shoulder whisky with orange curaçao and maple syrup finished with cardamom

Rye | Maple | Savory $15

Sugar Lips

Grey Goose vodka, Cointreau and PAMA liqueur with Citrus and Baby's Breath

Flirty | Tangy | Citrus $15

Love Child

Ilegal Mezcal with strawberries and habañero essence

Fun | Wild | Free $15

French Polynesian

Clement Coco Rum, Young Coconut, Fresh Pineapple, Lime, Chili Verde

Best.Pina.Colada.Ever $14
Tried & True
Smoke & Honey

Elijah Craig small batch bourbon, vanilla citrus liqueur, honey, bitters, Islay Rinse

Smokey | Sweet | Smooth $14

Little Miss Sunshine

Hendrick's gin, peach, lemon, almond, orange blossom

Tropical | Light | Savory $14

Blood Orange Paloma

Blanco tequila, blood orange puree, grapefruit, elderflower, almond, spice rim

Spicy Orange | Tropical Fruit | Tart Finish $14

Prickly Pear

Absolut Elyx, desert pear, ginger, elderflower, lemon

Tropical | Zesty Sweet $14

Seasonal Mule

Mule-du-jour served with New Amsterdam vodka

$14

Pink Toga

Champagne, white peach, cherry, pomegranate

Bubbly | Silky | Fruity $14
Draft
Stella Artois, Belgium

$8

Stone Delicious IPA, Escondido

$9

Golden Road Mango Cart

$9
Canned Beer
Coronado Guava IPA, San Diego

$9
Bottled Beer
Budweiser

$7

Bud Light

$7

Michelob Ultra

$7

Corona

$8

St Pauli Girl Non Alcoholic

$7
Bubbles
Benvolio Prosecco Friuli, Italy

Glass $14

Bottle $54

Marenco, Sweet Sparkling Rosé, Brachetto di Acqui DOCG, Italy

Glass $14

Bottle $54

Domaine Chandon, Brut, California

Glass $16

Bottle $62

Louis Roederer, Brut Premier

Bottle $80

Veuve Clicquot, "Yellow Label" Brut, France

Glass $24

Bottle $128

Moet & Chandon Dom Perignon, Brut, Champagne

Bottle $380
Sauvignon Blanc
Matanzas Creek, Sonoma County

Glass $13

Bottle $50

Matua, Marlborough, New Zealand

Glass $14

Bottle $54

Miner, Napa Valley, California

Glass $17

Bottle $66

Cloudy Bay, Marlborough

Bottle $80
Chardonnay
Chateau Souverain, Chardonnay, California

Glass $13

Bottle $50

Sonoma Cutrer, "Russian River Ranches" Sonoma Coast

Bottle $52

Cambria Clone 4, Santa Maria Valley

Glass $14

Bottle $54

Mer Soleil Reserve, Santa Lucia Highlands

Glass $16

Bottle $62

Freemark Abbey, Napa Valley

Glass $18

Bottle $70

Jean Marc Brocard, Chablis, Saint Claire

Bottle $77

Stag's Leap Wine Cellars, 'Karia', Napa Valley

Bottle $80

Cakebread Cellars, Napa Valley

Bottle $115
Interesting Whites
Riesling, Kung Fu Girl, Washington

Glass $13

Bottle $50

Benvolio Pinot Grigio, Fruili, Italy

Bottle $52

Pinot Gris, J Vineyards, California

Glass $14

Bottle $54

Pinot Grigio, Attems,Gorizia, Italy

Bottle $60

White Blend, Prisoner Wine Co. "Blindfold", California

Glass $18

Bottle $70
Rosé
Sunseeker, California

Glass $13

Bottle $50

Minuty, "M", Provence, France

Glass $13

Bottle $58

Chateau d'Esclans Whispering Angel France

Bottle $64

Chateau d'Esclans, "Rock Angel" Provence, France

Bottle $100
Pinot Noir
Château Souverain, Pinot Noir, California

Bottle $50

Babcock, Rita's Earth, Santa Rita

Glass $13

Bottle $50

Carmel Road, Monterey County

Bottle $55

La Crema, Willamette Valley

Glass $15

Bottle $58
Cabernet Sauvignon
Chateau Souverain, Cabernet Sauvignon

Glass $13

Bottle $50

Arrowood, "Sonoma Estates", Sonoma County

Glass $16

Bottle $62

Louis Martini, Sonoma

Bottle $65

Justin Vineyards & Winery, Paso Robles

Glass $18

Bottle $70

Kith & Kin by Round Pond, Napa Valley

Glass $21

Bottle $82

Freemark Abbey, Napa Valley

Bottle $123

Caymus Special Selection, Napa

Bottle $228
Interesting Reds
Merlot, Olelo, Paso Robles

Glass $12

Bottle $46

Zinfandel, Edmeades, Mendocino County

Bottle $48

Red Blend, Conundrum, California

Glass $14

Bottle $54

Malbec, Catena Vista Flores Mendoza, Argentina

Glass $14

Bottle $54

Merlot, Kendall Jackson Vintner's Reserve, Sonoma

Glass $15

Bottle $58

Merlot, Matanzas Creek, Sonoma County

Bottle $62
Bottomless Mimosas
$20

Mix & match your bottomless mimosas

Apple Cider Pumpkin Spice

Lavender Activated Charcoal Lemonade

Fresh Cucumber And Mint

Pineapple Jalapeño
Brunch
Fried chicken and waffle

Buttermilk chicken, orange cinnamon waffle, watermelon, sriracha maple syrup

$22

Double dipped french toast sticks

Frosted flake brioche, blackberry syrup, cinnamon marshmallow cream

$16

Hangover Hash

Braised prime rib, tater tot smash, poached egg, signature Hollandaise

$20

Brunchy smash burger

Tabasco aioli, fried egg, apple smoked bacon, tater tots

$19

Two Eggs Your Way

Your choice of chicken apple sausage or applewood smoked bacon, tater tot smash

$16

Upgrade to Prime Rib $14

Three Egg Omelets

Served with tater tot smash

Applewood smoked bacon or chicken apple sausage, cheddar, green pepper, onions $17

Spinach, tomato, onions, Swiss $16

Avocado, shredded cheese, tomato $17

Fruity Pebbles Pancakes

Blueberry Buttercream

$16

Signature Brunch Platter for Two

Signature eggs benedict, orange cinnamon waffle, 24-hour herb-roasted prime rib, ½ pound of snow crab legs, applewood smoked bacon, chicken apple sausage, tater tot smash

$65
Egg Benedicts
Served on Brioche Toast with Tater Tot Smash
Signature Eggs Benedict

Griddled Canadian bacon, poached egg, hollandaise

$17

Crab Cake Benedict

Lump crab, poached egg, chipotle Hollandaise

$22

Smoked Salmon Benedict

Scottish smoked salmon, poached egg, signature Hollandaise

$20
Steak 'N Eggs
Served with Poached Eggs and Tater Tot Smash
Filet 8 oz

Revier Cattle Company

$43

USDA Prime Skirt Steak 10 oz

Revier Cattle Company

$34
Soup & Salads
Mini Winter Squash Chicken Pot Pie

Roasted Chicken, Carrots, English Peas

$14

Add to Salad

Beeler's bacon $3

Chicken $10

Faroe island salmon $13

Jumbo shrimp $12

Little Gem Caesar

Shaved parmesan, garlic roasted croutons, crisp capers

$13

Mixed Greens

Seasonal Blend of Organic Greens, Avocado, Tomatoes, Toasted Quinoa, Smoked Tomato Vinaigrette

$12
Starters
Calamari

Citrus 'buffalo' sauce, tempura peppers and onions

$18

Crab cake

Brussels Sprout Slaw, Sherry Bacon Vinaigrette, Sweet Potato, Roasted Garlic Mustard Aioli

$19

House Ground Sliders

Truffle-Bacon-Onion Marmalade, Red Dragon Cheddar, Spicy Ketchup

$18

Heirloom roasted cauliflower

Hazelnut vinaigrette, cinnamon, currants, Fresno chili

$14

Roasted brussels sprouts

Thai chili glaze, young coconut, basil, mint

$15

Spinach dip

Mozzarella, parmesan, roasted artichoke, warm pita

$15

Coconut shrimp

Coconut crusted, orange-ginger marmalade

$19
Alaskan crab legs

Served chilled or steamed with drawn butter, cocktail sauce, lemon

½ lb $17

Shrimp cocktail

Citrus poached, ancho chili cocktail sauce, lemon

$19
Charcuterie
We have a team of chefs who have curated a program of artisanal meats and cheese served with chef accouterments. Available as Petite (23) or Grand (36) Charcuterie Board
PETITE

Bresaola

Cured and air-dried beef tenderloin from Italy

Salametto Piccante

Aged 30-day and seasoned with pimenton de la vera

St. Andre

Cow's milk triple cream from France

Red dragon

Cow's milk cheddar with mustard seed and welsh brown ale from England

GRAND

Everything in the Petite selection plus:

Prosciutto de Parma

18-month aged ham from Italy

Midnight moon

Hard and nutty goat's milk cheese from Holland

Ewephoria

Sheep's milk gouda from the Netherlands
Lunch
Grilled chicken sandwich

Garlic aioli, little gem lettuce, tomato, red onion, avocado, crispy fries

$17

Faroe Island Salmon BLT Sandwich

Applewood Bacon, Lettuce, Tomato, Caper-Lime Remoulade, Brioche Bun, Crispy Fries

$19

24-Hour Herb Roasted Prime Rib 8 oz

Tater tot smash, seasonal vegetables, au jus, horseradish

$30
Sides
Tater Tot Smash

$5

Chicken Apple Sausage

$5

Applewood Smoked Bacon

$5

Seasonal Fruit

$5

Belgian Waffles

Orange Cinnamon Waffle and Whipped Maple Butter

$8

Buttermilk Pancakes

Whipped Honey Butter and Maple Syrup

$8