Main content starts here, tab to start navigating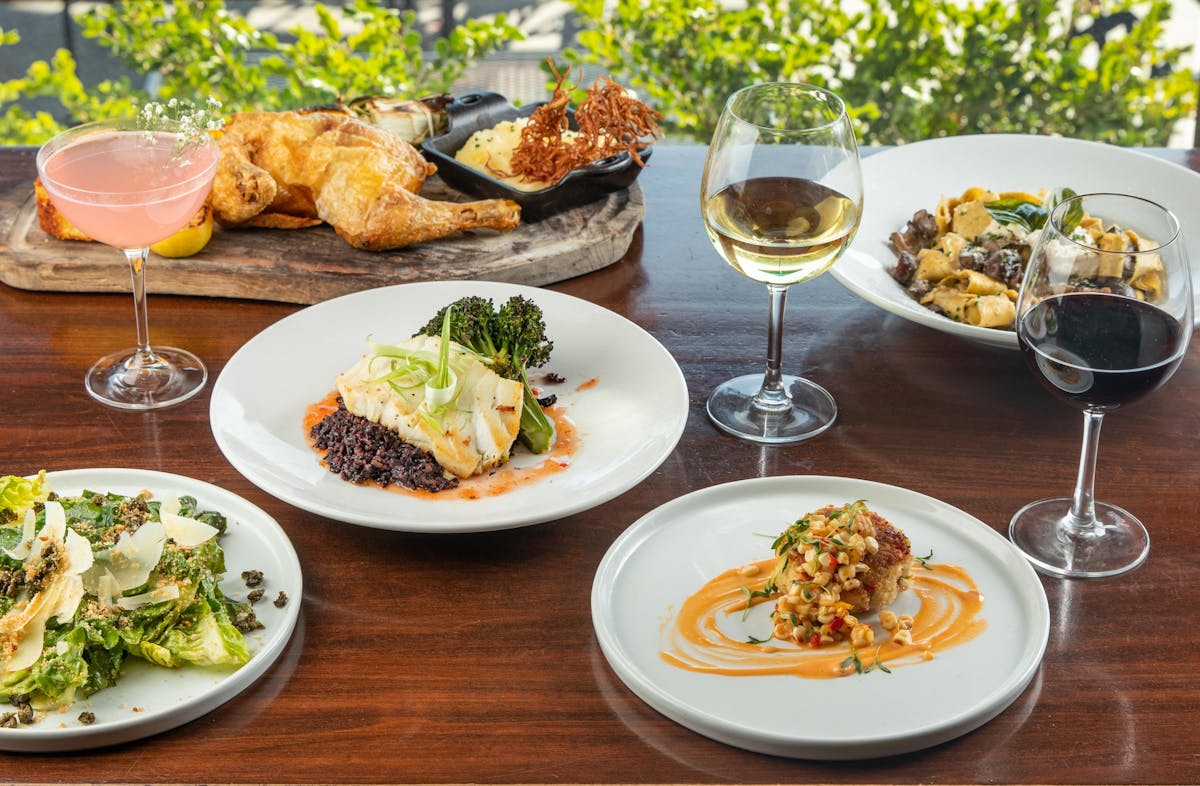 Dinner
Join us for steak-forward cuisine with seasonal ingredients daily from 4pm to 9pm.
Download PDF
Starters
Roasted Brussels Sprouts

Thai chili glaze, young coconut, basil, mint

$16

vegan

Crab Cake

Grilled sweet corn, fresh chives, bell pepper, chipotle aioli

$19

Grass Fed Beef Sliders

Truffle and roasted garlic aioli, bacon jam, moody blue cheese

$18

Heirloom Roasted Cauliflower

Hazelnut vinaigrette, cinnamon, currants, fresno chili

$16

vegan

Spinach Dip

Mozzarella, parmesan, roasted artichoke, warm pita

$17

Calamari

Citrus "buffalo" sauce, tempura peppers and onions

$19

Coconut Shrimp

Coconut crusted, orange-ginger marmalade

$19
Raw Bar
Chilled Oysters

Half dozen, east and west coast, ancho chili cocktail sauce, pink peppercorn & champagne mignonette

$24

Blue Points - East Coast

Fresh, crisp, firm texture, with sweet notes and a salty finish

Kumamoto - West Coast

Creamy, subtle brine, notes of cucumber with a sweet and salty finish

Shrimp Cocktail

Citrus poached, ancho chili cocktail sauce, lemon

$19

Red Colossal King Crab 6oz

Whole grain white wine mustard aioli

$28
Imperial Seafood Tower

East & West Coast Oysters, Shrimp Cocktail, Snow Crab Cluster, Whole Maine Lobster, Jonah Crab Claws, White Soy Salmon Poke, Wakame

Petite (serves 2) $98

Imperial (serves 4) $180
Greens
Little Gem Caesar

Shaved Parmesan, Roasted Garlic Croutons, Crisp Capers

$15

Organic Greens

Avocado, Tomatoes, Toasted Quinoa, Smoked Tomato Vinaigrette

$14

vegan

The Wedge

Iceberg Babies, Ranch, Blue Cheese, Radish, Cherry Tomato, Applewood Bacon

$16
Charcuterie
Curated by the Beverly Hills Cheese Shop. Available as a plate of 4 (24) or 7 (37) and served with Chef accoutrements.
CHEESE

Black Label Cambozola

Brie-style pasteurized cow's milk blue cheese, germany

Moliterno Al Tartufo

Aged Pecorino Cheese, Filled with Black Truffles, Italy

Fromager D'affinois

Luscious, pasteurized cow's milk, and double-crème, france

Midnight Moon

Hard and nutty goat's milk cheese, holland

Rulo "Crème Brulee"

Goat's milk with creme brulee notes, spain

MEAT

Salame Napoli - Piccante

Roughly ground, lightly spiced pork

Coppa Senesa

Lean tuscan salami with aromas of cloves, cinnamon, and nutmeg

Ventricina Salame

Well-defined aromas of cured meat, pepper, paprika, and chili, with notes of fennel

Prosciutto De Parma

18-month Aged Ham
Specialties
Crispy Whole Local Snapper

Creamy coconut orzo, arugula and grilled corn salad, roasted jalapeño lime dressing

$39

Lobster and Shrimp Risotto

Fresh butter poached lobster, marinated shrimp, snow peas and carrots

$42

Wild Mushroom Pappardelle Pasta

Roasted wild mushrooms, truffle whipped ricotta, basil

$30

Zinfandel Braised Short Rib

Truffle whipped potato, ranch scented onion rings

$37

Roasted Chicken

Blackened organic chicken, truffle creamed corn, roasted spring vegetables

$34

Faroe Island Salmon

50/50 mashed, garlic caper butter sauce, seasonal vegetables

$36

Miso-Marinated Chilean Sea Bass

Black thai rice, grilled broccolini, sweet chili sauce

$48

Orange Hill Burger

Double patty smash burger, lettuce, tomato, cheddar cheese, secret sauce, caramelized onions, brioche bun, shoestring fries

$22

24-Hour Herb Roasted Prime Rib 12oz

50/50 Mashed, Seasonal Vegetables, Au Jus, Horseradish (Limited Availability)

$39

Sautéed Broccolini & Crispy Tofu

Soy honey glazed tofu, ginger broccoli purée, toasted sunflower seeds and roasted red pepper

$32

vegan

Broiled Lobster

Broiled lobster tail, 50/50 mashed, grilled citrus broccolini

$65
Butcher Cuts
Plated with roasted cipollini onions and shallot marmalade.
Wagyu Zabuton 8oz

$36

Filet Mignon 8oz

$42

30 Day Dry Aged Ribeye 14oz

$49

New York Strip Reserve 12oz

$46

Bistro Steak 8oz

(One of the most tender cuts, lean yet juicy

$38

Bone-In Ribeye 18oz

$60
Steak Enhancements
Truffle Butter

$6

Grilled Shrimp

$12

Broiled North Atlantic Lobster Tail

$38

Bordelaise

$3

Bearnaise

$4

Au Poivre

$3
Large Format
Dry Aged Tomahawk 48oz

Premium hand-selected, black angus

$145

The Progressive

Himalayan pink salt, roasted cippolini onion, red wine shallot, crushed pink peppercorn Filet Mignon 8oz, Dry Aged Ribeye 7oz, Bistro Steak 4oz, Wagyu Zabuton 4oz

$125
Sides
50/50 Mashed

Yukon gold potatoes, butter, cream, chives, horseradish, potato "hay"

$10

Baked potato

Cheese sauce, braised bacon, sour cream chives

$10

Shoestring fries

Parmesan, rosemary, parsley

$10

Four Cheese Mac and Cheese

Fontina, cheddar, parmesan, gruyère, parmesan bread crumbs

$10

Grilled Broccoli and Broccolini

Garlic confit, chili flakes, broccoli purée

$10

Wild Mushroom Fricasse

Sweet garlic, truffle cream

$10

vegan

Truffle Creamed Corn

Sweet yellow corn, black truffle

$12